Women Driving the Passive House Industry is iPHA's newest interview series which aims to highlight the remarkable women working in the Passive House community. The iPHA team interviewed a handful of the many women who've contributed substantially to the growth of the Passive House Standard around the world. Here's our third interview featuring carpenter-in-training Bethany Mercieca.
---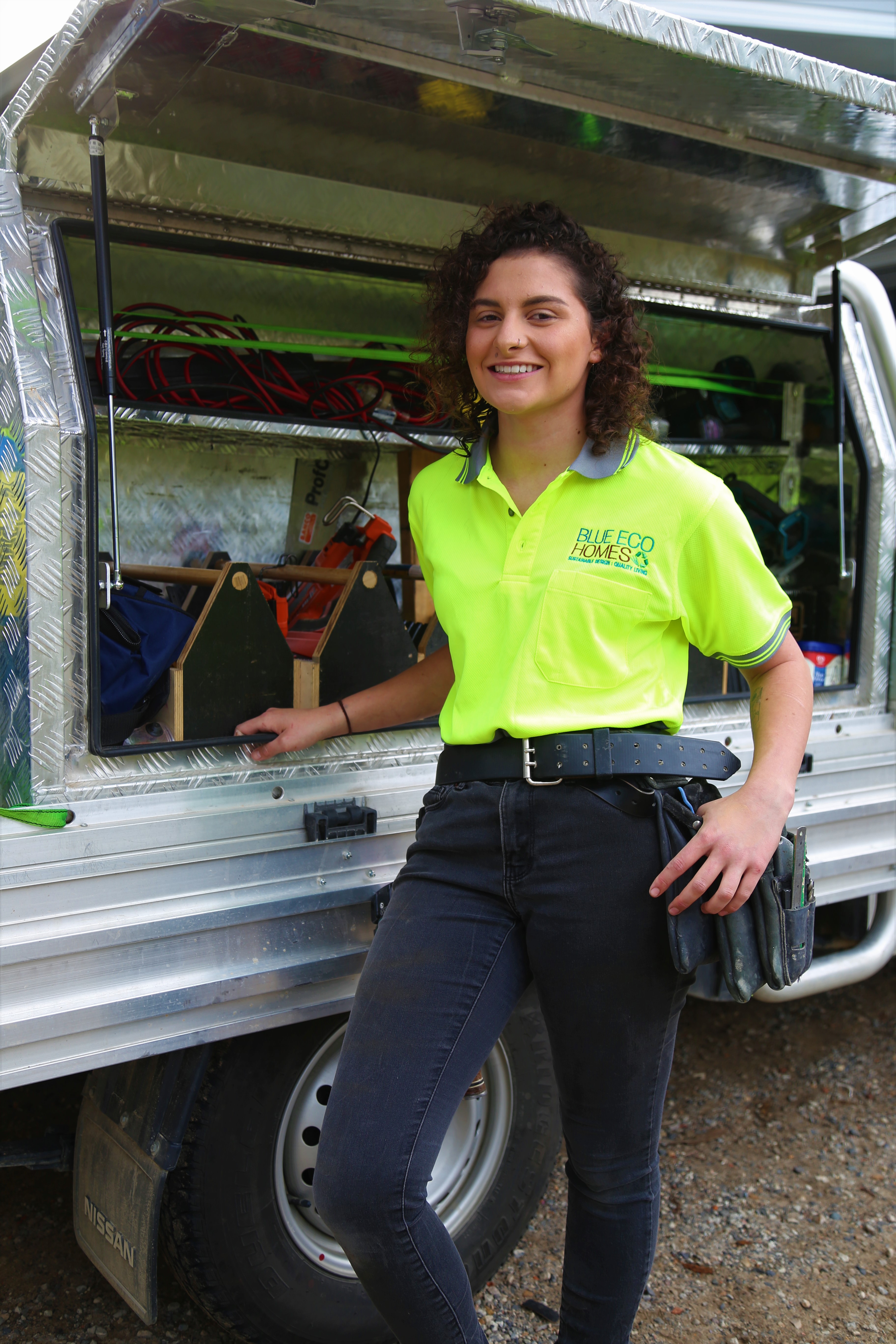 Bethany Mercieca is an apprentice carpenter working with Blue Eco Homes where she is completing her certificate III in carpentry. Bethany grew up in the Blue Mountains (NSW, Australia) and growing was often on building sites with her dad – so it was no surprise when she decided to learn a trade. Bethany studied in other industries before coming to work in the family-run business, having completed a diploma in screen and media and a certificate III in hairdressing before making the switch. She has been working on-site since 2019 as a full-time apprentice and has aspirations in design and construction where she will be able to design Passive House and sustainable projects; alongside being a qualified tradesperson.
Did you always want to become a carpenter? What drew you to the profession?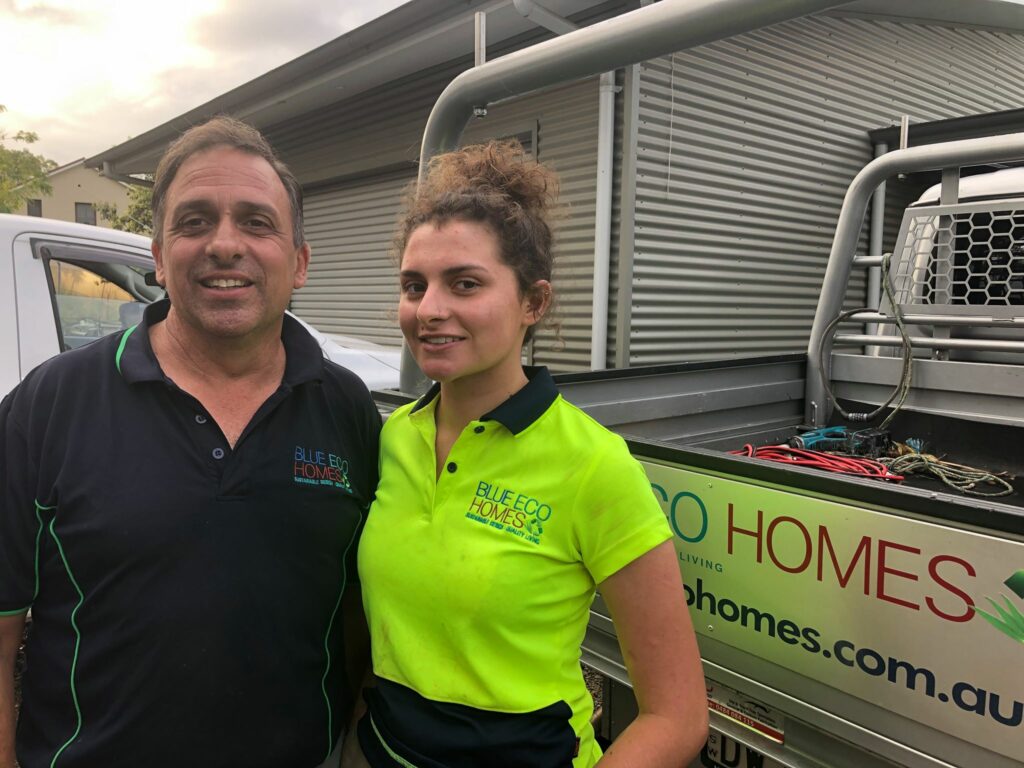 No, working in the construction industry had always been at the back of my mind and only ever played a small role, until about 2018 when I began working casually as a labourer for my dad's company. I worked as a labourer on and off alongside my part-time hospitality job and studying a diploma in makeup artistry/ hairdressing. Once I completed my studies, I made the decision to put on a toolbelt fulltime and began my carpentry apprenticeship with Blue Eco Homes. I was drawn to carpentry by a number of elements of the job; for example, watching a building start from nothing and form into a house while knowing I physically helped make that happen. Working for a company that strives to make more sustainable, passive designs was also an incentive. It's great being a part of something that is actively working to help the environment and make cleaner and healthier housing for occupants.
How did you first get into the Passive House Community? What was your first impression?
I was first introduced to Passive House when I was working for my dad on a casual basis, the house we were working on would soon become the first certified Passive House Plus in a flame zone in Australia (See the video tour of the house here).
My impression was that it was just like building a regular house, but with a few extra steps and fine-tuned designs that required precision and well-thought-out work practices. I was so intrigued by the idea of what Passive House buildings could do for not only the environment but for the building industry itself.
What has your experience working on Passive House projects and in the Passive House community been like?
I have been involved with two Passive House builds so far. My experience with these has been a meticulous process to ensure that there are no gaps or leaks, which can take more time. I find the process very precise, every step is important.
The Passive House community is very enthusiastic, passionate and progressive. Everyone I have met has been interested in new ideas and how Passive Housing can become the future of the industry.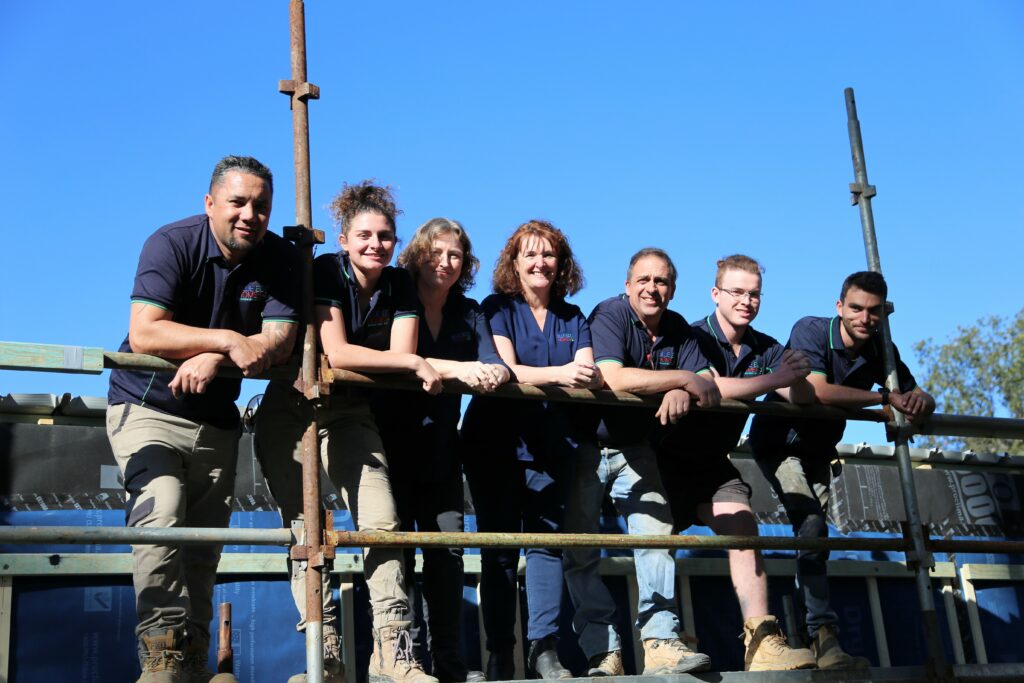 How has training to become a tradesperson been? Is there a major difference in Passive House trade training and conventional training?
My studies for my cert III in carpentry have been going well. The houses I am used to that Blue Eco Homes build tend to be different from standard builds anyway, as they are more sustainable than standard builds and are usually built to meet flame zone standards.
I find that most of the practices are the same between the two. Passive House plans usually need more attention to detail and extra steps to keep them as airtight as possible. I am yet to complete the Passive House tradesperson course but I look forward to starting it as soon as I have completed my current studies.
Do you find there is a different way of approaching a Passive House project compared to a normal building project?
Yes, there is a lot more preparation and precision in each step of the build. You must be thinking three steps ahead the whole time to ensure everything will work together in order to meet the Passive House Standard; and in our case, also meet the flame zone standard. I find this makes it a more complex process compared to a standard build which requires less calculation and precision.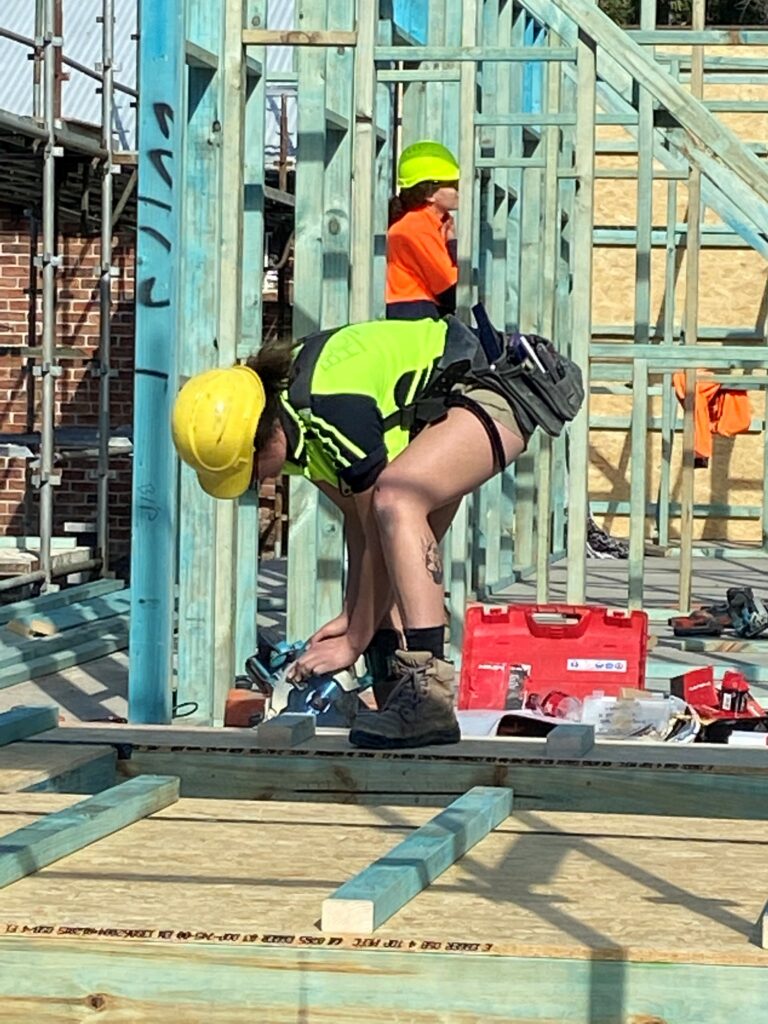 What changes would you like to see in the trades to meet our climate goals?
All areas of the industry need to be aware of the impacts that trades have on the climate. For example, the construction industry is responsible for 50% of climate change, 40% of energy usage globally, and 50% of landfill waste. This is where companies and trades need to think about how they build and the impact of their practices and to ensure that they are working smarter and being environmentally conscious.
While it would be difficult for a company to go completely waste-free, simple practices can be put in place; some of the practices Blue Eco Homes follows include separate rubbish cages which are disposed of in the correct manner such as recycled metal, cardboard and reusing unneeded materials for other projects rather than all 'rubbish' going to landfill.
I'd like to see changes to the building industry standards that will push sustainability and requirements for new developments to ensure an increase in more sustainable, Passive House buildings in Australia.
In the future, which developments do you wish to see in Passive House in Australia?
Ideally, it would be to make the Passive House Standard the 'normal' building standard across the building industry. Not just for housing but for all new developments.
While working towards the goal of Passive House Standards Australia wide, it would be ideal to make building materials that are more sustainable and environmentally conscious available to the industry. For Australia, that would also mean locally manufactured materials and components, rather than having to wait months for products to be shipped from overseas.
On another note, making Passive House training a part of the curriculum in training apprenticeships would be a great step. Currently, Passive Housing tends to be an unknown subject within the TAFE system (technical and further education). It would be great to teach the younger generation of tradespeople that the future of the construction industry is Passive House.
---
What did you think of the interview? Let us know in the comments! If you liked this one, then maybe you would enjoy our previous interviews with Ann-marie Fallon and Anne Vogt. Who do you think we should interview next?