Women Driving the Passive House Industry is iPHA's newest interview series which aims to highlight the remarkable women working in the Passive House community. The iPHA team interviewed a handful of the many women who've contributed substantially to the growth of the Passive House Standard around the world. Here's our first interview featuring Ann-Marie Fallon.
---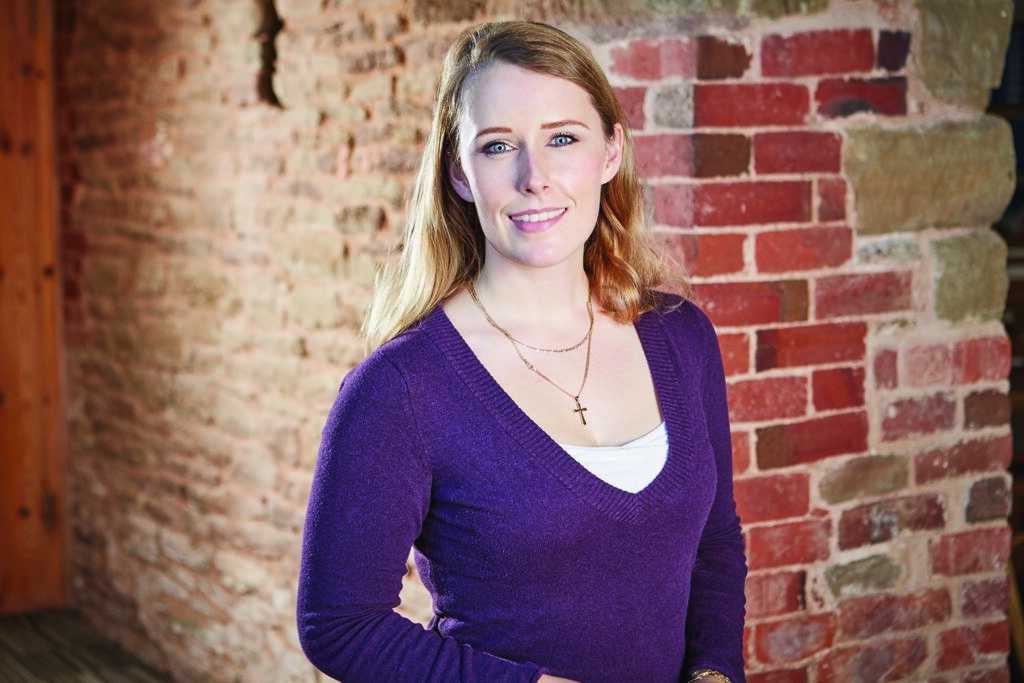 Ann-Marie was one of the first groups of enthusiasts to qualify as a Certified European Passive House Designer in 2009 at the University of Strathclyde. She became a fully qualified Architect in 2013, following her studies at the Dublin School of Architecture, where she was awarded the Jack O'Keefe medal for academic excellence. Interested in deepening her knowledge in sustainable architecture, she went on to complete an MSc in Environmental Building Design at Cardiff University in 2014 graduating with a distinction. Ann-Marie joined Architype in early 2016. Having gained significant Passive House experience in her home country of Ireland, she is now using her extensive knowledge to support Architype's technical team in some of their most complex projects. In addition to her work at Architype, Ann-Marie has been a part-time tutor at the University of Bath, teaching Environmental Design and Architecture students for five years as well as being an external examiner in various architectural disciplines at UCL, TU Dublin and the University of Nottingham.
Did you always want to become an architect? What drew you to the profession?
I had a natural interest in art growing up. I wrote, imagined, sketched and played music, as well as having a great love for nature and the outdoors. I became visually drawn to the different parts of my hometown in Dublin, Ireland and how the built environment affected our day to day living (for better and worse!). I see now that perhaps my childhood interests came together in wanting to know more about the physical built reality we live in.
When I began my architectural degree in 2002, it was still hand drawn design work in the studio. In my first year in architecture we had a class called SEED (Sustainable Environmental and Ecological Design), which introduced me to environmental design principles, embedded carbon in materials and so on. We also learned chemistry and physics, making plastics and other materials in the labs, calculating U values, learning about material properties. I really identified with and embraced the idea of architecture that significantly mitigated its impact on the environment. The balance between the art and science of architecture really stuck with me through these years.
How did you first get into the Passive House Community? Was it through a job? A specific project? What was your first impression?
After graduating from architecture in 2008 it was a difficult time as the country was in a construction recession. After setting myself up as self-employed, doing some design work and teaching training courses all over Ireland, I had the chance to develop government funded courses to teach unemployed tradespeople about airtightness, energy efficiency and the new energy regulations in Ireland transposed from the then quite new European Performance of Buildings Directive 2010. It wasn't the 'typical' graduate architect path but led me to where I am today. Certainly being a 24 year-old woman, teaching a room full of unemployed construction workers, insisting they needed to build better for the new building regulations was a character forming experience! Looking back, the flexibility and adaptive nature of what I was doing helped me to grow in resilience and ambition.
My first exposure to Passive House was through a friend who worked with one of PHI's long-standing colleagues. The first English language PHPP software training came to Dublin in July 2009 and I eagerly attended. Immediately, I was impressed with the simplicity and rationale of the approach. I enrolled myself to attend the first Passive House training course at the University of Strathclyde in 2009. I was the veritable baby of the bunch surrounded by very talented engineers, architects and others. They have gone on to be very influential people in the Passive House community in the UK and beyond and I'm glad to be a part of that journey too.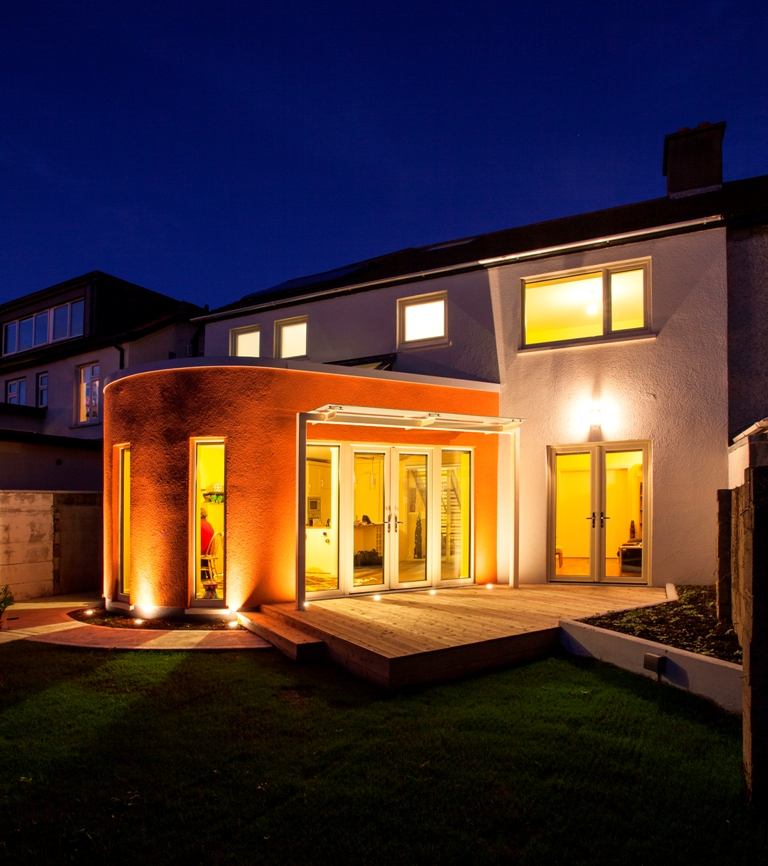 In 2010-2011 before I moved to the UK. I worked with Joseph Little Architects in Dublin. We delivered Ireland's first EnerPHit Passive House project. I had great direct support from PHI during this time, who also certified the project directly as it was the first in the country, back when EnerPHit was still relatively new.
Getting such hands-on experience was fantastic. I carried out some self-led research studies after completion and presented this at the Passive House Conference in Frankfurt in 2013. I recently re-connected with the client 9 years later to see how she is getting on in the home: she is still in love with it. Client satisfaction and creating lovely spaces which also happen to deliver serious environmental benefits is a key outcome for me with Passive House.
What has your experience working on Passive House projects and in the Passive House community been like?
I've been fortunate to work in various guises on many Passive House building 'firsts', such as the first Irish EnerPHit (5th in the world at the time!) and the first listed Victorian temperate house refurbished to Passive House principles using PHPP.
Since 2009, I have only found support, knowledge, opportunity and reward within the Passive House community. It is a great team to be part of. I admire, respect and continue to learn from so many of them. We are all eager to bring the knowledge further within the construction industry and I like to think we support each other in doing that.
Being amongst the first Passive House certified Designers in the UK, have you seen a large spread of the Standard and/or developments in Passive House architecture throughout the UK?
I have had an interesting view of this over the last decade.
I took up a role in teaching Environmental Design with the University of Bath since 2014 alongside architectural practice. They had identified the need for more Passive House related principles being taught at undergraduate architecture level, integrated with studio. Combined with the 'Greta' effect, many more students are impassioned about Passive House design and applying the principals to their designs which is fantastic to see as an educator.
Informing and educating the next generation is a key part in empowering young graduates to make better decisions about design in the future. It's also important that female undergraduates in particular are supported to embrace being more technically informed about the environment as an architect is very attainable and a key asset. This is particularly relevant as the construction industry lags behind other industries in relation to gender equality. Unconscious gender bias and the gender salary gap are key issues across the sector as evidenced by recent RIBA surveys. I hope that I can inspire all genders of students to be more focused on energy efficiency and the value this brings to their work identity in the future.
In terms of the spread of Passive House in the UK, the market has not grown quite as quickly as I would have expected back in 2009. Interest is growing particularly at the larger scale in the public housing sector. Larger schemes such as Agar Grove and Goldsmith Street have certainly brought more exposure to a wider audience, and several other large low density and mid density schemes are under way.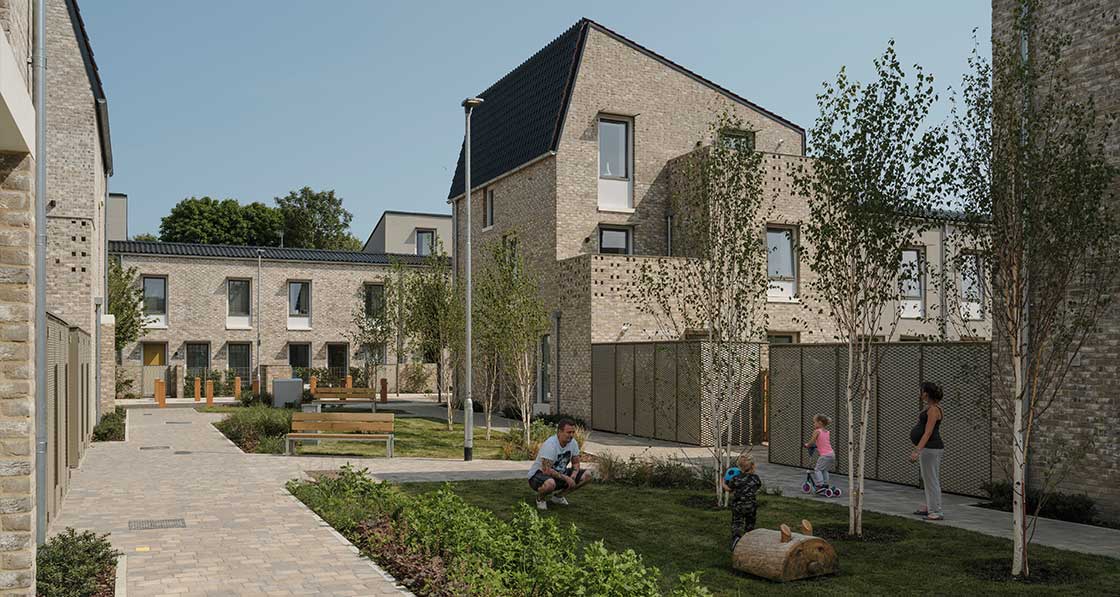 Architype, who I joined in early 2016, is one of the few practices in the UK making the transition to other building sectors. The diverse Passive House projects Architype delivers from archives, schools, business and university buildings has proved in the UK that yes, Passive House is possible for a wide range of buildings. We even have two significant Passive House swimming pool projects in the pipeline, as well as the largest Passive House secondary school in the UK. It's back to that mindset with Irelands first EnerPHit a decade back: the building physics doesn't change, so the same principles can be applied once one understands the typology well. A key aspect is to keep the design approach simple, with Passive House being considered from the outset.
Do you have a different approach when proposing a Passive House project compared to a normal building project?
There are challenges and opportunities in proposing Passive House compared to normal building in the UK. At Architype, over 70% of our work is Passive House project led. Passive House really is our in-house 'normal' approach. The demand comes about through a mix of clients . Some want Passive House from the beginning; while others choose the PH route once they know more about the operational savings and the health and air quality benefits.
A lot of time can be spent teaching on what Passive House means and engaging with others on de-risking PH from what industry sees as their 'normal' approach. In fact, 'normal' is the more risky approach in terms of quality assurance in my view! There has been a growing interest in the construction industry looking for training in the area. Demand outstrips the pace of the trainers to provide it. This gap really needs to be supported in order to develop knowledge of Passive House across the industry.
The most important aspect of our developing work has been facilitating visits to completed Passive House projects with clients and design teams. Seeing and breathing in the great air quality (!) really is believing.
The modeling and appraisal of design development that's involved for non-domestic Passive House is different to a normal building project. I have spent time over the last few years working with an innovative internal working group, streamlining workflows and efficiencies around this for Passive House evidencing and design development purposes. This is critical on large scale projects across different sectors that a streamlined approach is delivered for consistency.
We read that you have been a regular contributor to the CPD circuits and held several presentations. One of the topics was embedded carbon impact of Passive House at scale. Do you see any substantial improvements in embedded carbon quantities in Passive Houses over the years?
I have been regularly speaking and passing on learning to various parts of the construction industry since 2011. Last year was a very busy year for me on the circuit. I recently calculated that on average, every 3-week period in 2019, I was either delivering professional CPDs, writing articles, carrying out practice led research, doing award interviews, submitting papers for conferences and attending conferences and build expos. This was alongside my normal duties as an Associate at Architype delivering Passivhaus projects. I honestly do not know how I fitted it in, I think passion and adrenaline got me there in the end! I find it rewarding to share experiences and lessons learned wherever I go, but I did decide to slow it down a little for 2020!
In recent years the embodied carbon agenda has featured more strongly with the UK. It was during the delivery of the Agar Grove residential development since 2016, that I explored the wider impacts of material and construction choice in relation to design and build contracts on Passive House. As an architect, one can lose control of an embedded carbon brief requirement in the traditional design and build procurement process in the UK. By connecting operational and embedded carbon impacts together in the early stages, a powerful image of whole life carbon can be presented.
My key interest is in how we as experts communicate embedded carbon visually to the client for the most impact. Tonnes of CO2 equivalent doesn't excite or fully engage the typical client or contractor. It has to mean something within their own value chain: my papers explored if we can be more successful communicators about the impact of material decision-making in design, embedded carbon quantities will almost certainly improve.
Architype has developed an in-house carbon cost and energy tool Eccolab, which enables us to communicate this to our clients in order to make longer term estate decisions for their projects. It's a very exciting time for us and increasing large sector client uptake in our findings.
Where does your inspiration come from when working on a new project?
Initial inspiration always comes from the site and the brief: it is here that true early design optimisation embeds Passive House into the scheme. To me, Passive House is an environmental design that we all learn a 'lite' version about which is too linked to aesthetics, and never quantified beyond that for ourselves as students. The gap between what I learned in my early SEED lectures at university is the science and numbers tying it together. Material choice and a strong consciousness around buildability are also important and if thought about at the early stages can lead to really beautiful design.
In the future, which developments do you wish to see in Passive House in the UK?
We are already excited about the future we are seeing at Architype. We are working with various public and private sector clients with significant building estates, educating them about how to manage their energy agendas well into the future for new and existing buildings. Councils around the country are already pledging to build to the Passive House standard. Adopting a collaborative contractual and procurement culture is absolutely required.
We have been supporting clients in amending policy or procurement information to make Passive House and certification to Passive House mandatory as a critical way of guaranteeing better construction quality and a better product at the end of the day. In turn we have begun to see supply chains informing and educating themselves as this is where the market is heading, albeit still slowly according to the ambitious and pioneering research carried out by Dr Diane Urge-Vorsatz.
I would love to think in my lifetime, that there will be a point where Passive House is just 'the new normal' and embraced as part of the process of architectural design and place-making.
It's also important for the younger generation particularly design and engineering graduates as well as the scientists to realise they have a real place at the table to create impactful change as designers and decision makers. There is a lot done, but a lot more to do. It's taken almost 30 years to get this far, due to the persistence and ambition of key people across the world convinced by the Passive House strategy. I'm looking forward to continuing on the journey!
---
What did you think of the interview? Let us know in the comments! And be sure to keep an eye out for the next interview in our 'Women Driving the Passive House Industry' series.