The mid-year International Passive House Open Days will soon be upon us! This year's mid-year event will be slightly different, switching to a video format next month June 26-28. While we cannot meet in person as a result of the Covid-19 pandemic, iPHA and its affiliate partners want to keep the spirit of the Open Days alive: Reaching out and showing the advantages and comfort of Passive House buildings to a wider audience – virtually! The new format offers viewers a chance to learn more about Passive House and its construction processes and gives hosts and companies a chance to educate…and maybe show off a little too!
Although the mid-year Open Days 2020 will be online, we thought it would be fun to reminisce about the format in its classic form. In one of our previous blog posts, we talked about the perks of attending the Passive House Open Days, but have you ever wondered what it is like to be a Passive House owner? In this new interview series, we asked three PH owners what it is like to be a host during the International Passive House Open Days and the benefits of owning a Passive House.
---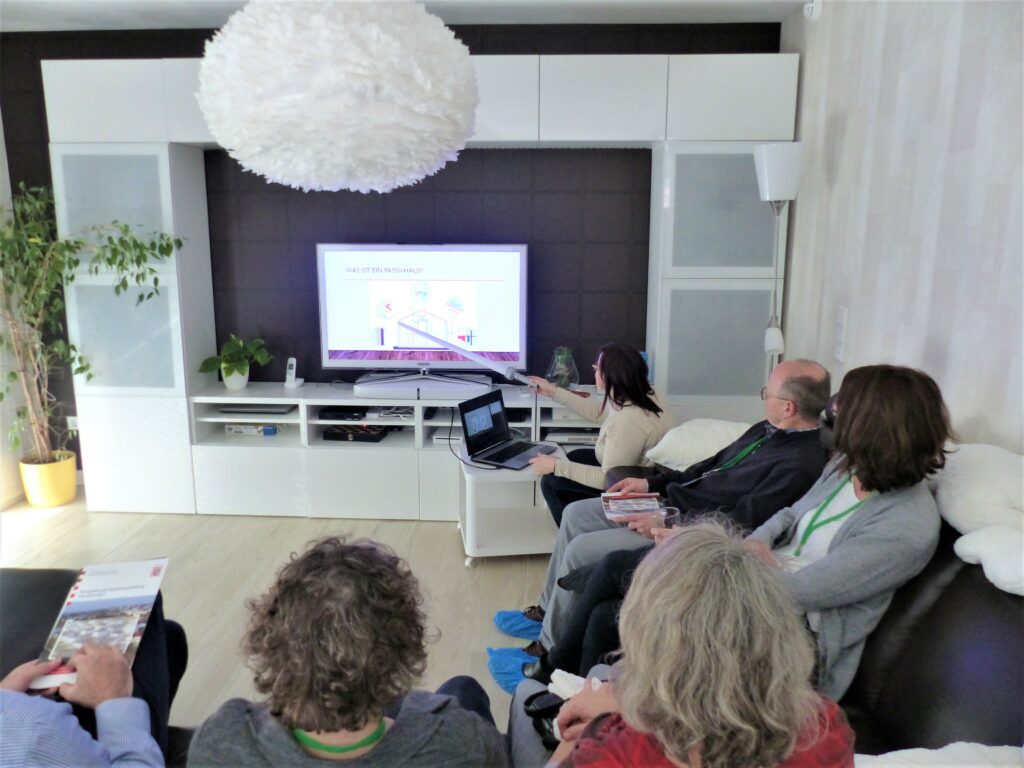 The first interview of the series is with Marta Rizvi, a passionate Certified Passive House Consultant who also runs an informative Passive House blog called "Autark mit Passivhaus". Her house in Niedderau, Germany, is a detached single-family home constructed in 2017. The construction details of the building can be found on her blog or in the Passive House database with the ID 5484.
---
Ms. Rizvi, what motivated you to open your doors to visitors during the International Passive House Open Days?
The future homeowners and builders have many decisions to make. They also have the unique opportunity to do (almost) everything right. I wanted to show the visitors how many advantages a Passive House offers. I think it is the best solution from an economic, sustainable, environmentally friendly and also health point of view.
Being a PH owner, what would you recommend visitors pay particular attention to when visiting a Passive House?
It never ceases to amaze me how much time and effort people invest when they buy a new vacuum cleaner or television and how careless they are when it comes to the biggest investment of their lives. Every house, whether new or existing, is an enormous financial burden. You can make sure that a house will meet the needs of its inhabitants in the long run without straining their finances. An energy-saving house is then the best, real retirement provision.
The better the visitors inform themselves in advance, the more they are aware of what they really need and what they don't need, the more they can benefit from a visit, as they ask the right questions in that case.
What are the most common question and your favourite question you get from visitors about your Passive House?
Often I have to explain that a Passive House is not a specific construction method but "simply" an energy standard. This means that builders are free to choose their construction method, whether solid or prefabricated, whether ecological or low-cost building materials are used.
My favourite question is: does the Passive House Institute sell houses?
Is there a Passive House myth you have had to bust during the PHOD? (e.g. windows don't open; ventilation system is too loud)
Yes, the window question keeps coming up. And the myth of the breathing walls. In an airtight Passive House we will definitely suffocate 😉
What do you like the most about your Passive House?
First of all, the freedom to decide for ourselves what temperature and humidity are good for us. We don't have to save too much money, as the heating costs are extremely low. Since our photovoltaic system produces twice as much electricity as the house consumes, we can still charge an electric car and additionally cool the house in extreme heat.
Another positive aspect is the independence from fossil fuels. Since we switched to electric cars, our house has been our main energy supplier. Of course, we are dependent on the grid in winter, but thanks to the Passive House Standard and a heat pump we only draw 1250 kWh from the grid per year. Not to mention the comfort and cosiness. We wouldn't want to miss the high air quality anymore.
Another tip: even the plants that we have had for 20 years grow better in a Passive House.
Do you think your quality of life has improved since living in a Passive House?
Without a doubt! Unfortunately, the quality of life is difficult to convert into money, otherwise, more people would be willing to deal with the topic of Passive House.
Our house is friendly and bright, with lots of daylight, which clearly lifts the mood. When we wake up in the morning, the air is always fresh and not stuffy thanks to the ventilation system. The air is also not stuffy when we return from travel. Complaints such as headaches occur much less frequently. A cold also disappears more quickly, perhaps because the constant exchange of air ensures fresh air and inhibits the development of bacteria and viruses. The smells after cooking do not stay in the air for long.
My parents, who now also live in a Passive House, have significantly fewer rheumatic complaints. The soothing warmth and lack of draughts ensure the best possible living conditions.
And here we come to a major disadvantage of the Passive House: You get used to the comfort so quickly that you are reluctant to leave the house. Spending the night at friends' houses or in some hotels clearly shows us what we no longer miss: the cold, draughts, humidity, and stuffy air. Our son had to name his favourite place. Instead of Disneyland or Legoland, he simply wrote: Home.
What do you particularly enjoy when showing and introducing people to the Passive House Standard?
We have a power storage unit. The manufacturer offers comprehensive monitoring. I often present our energy data to visitors. Many men are very interested. The data lays out our minimal power consumption from the grid and corresponding low ancillary costs. The women, on the other hand, are often more interested in whether they like the interior design of the house and whether they feel comfortable at our place. The temperature and air quality play an important role in this.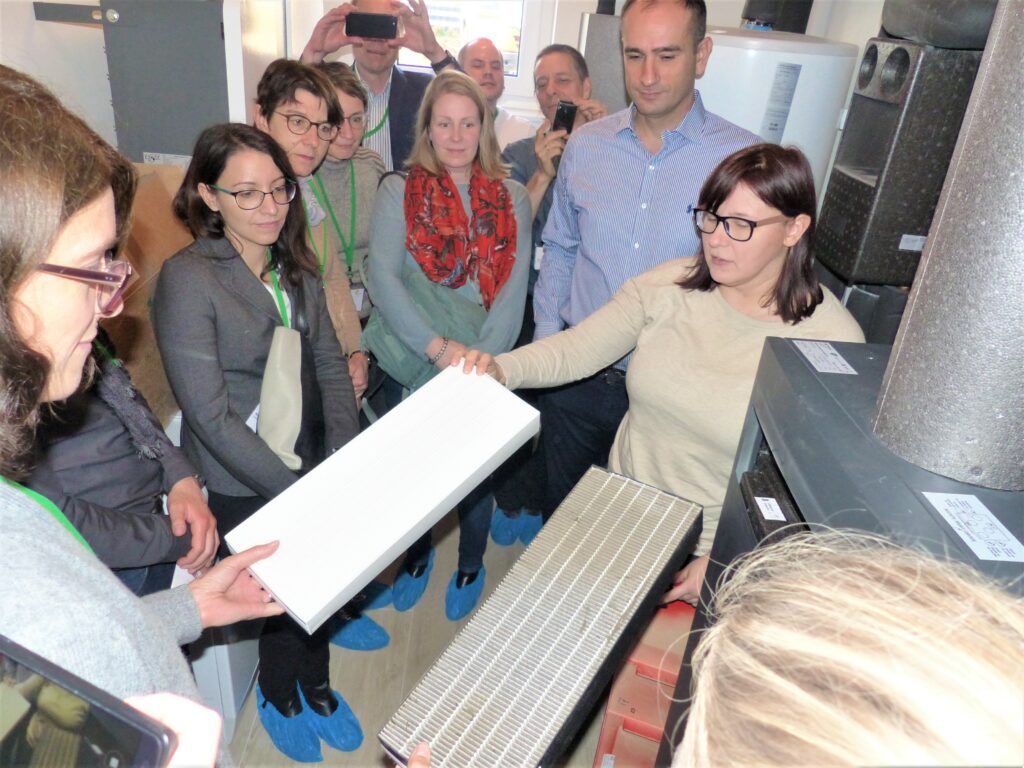 Do you remember any interesting reactions from visitors?
Most visitors get more information than they expected and need time to process it first. It suddenly becomes clear to them how many things they have not yet thought about. Therefore, it is helpful that I keep a construction blog, where you can read everything or ask questions.
The funniest reactions came from our private life. When our friends visited us in March, they didn't want to believe that the heating was off and they were looking for hidden installations.
Another reaction is one I recall from an evening in November when my friend asked me if we were heating a lot because she saves on heating at home herself. I told her that the heating wasn't even on yet. Then she asked me where the heat came from. As I answered her that it comes from the sun, she stood there, puzzled because the sun had already set hours ago, and wondered whether I was pulling her leg or if I was serious.
Here's another; In the hot summer of 2018, an electrician refused to leave our house and drive home because it was so pleasantly cool and his apartment was overheated. Unfortunately, we could not adopt him.
From experience, would you encourage others to get involved as an exhibitor or visitor during the PHOD?
Absolutely. The more houses are opened, the more choice the visitors have. They can thus experience a variety of construction methods and styles. Before we built, I also visited two Passive Houses, which made a strong impression on me.
---
Did this interview make you want to submit a video for the mid-year International Passive House Open Days?
Send in your 5-minute video! To submit the video, or if you have any questions or comments regarding the Passive House Open Days Event, please contact us at info@passivehouse-international.org.