Women Driving the Passive House Industry is iPHA's interview series to highlight the remarkable women working in the Passive House community. As part of our International Women's Day celebrations, the iPHA team interviewed a handful of the many women who've contributed substantially to the growth of the Passive House Standard around the world. Here's our latest interview featuring Kelly Fisher.
---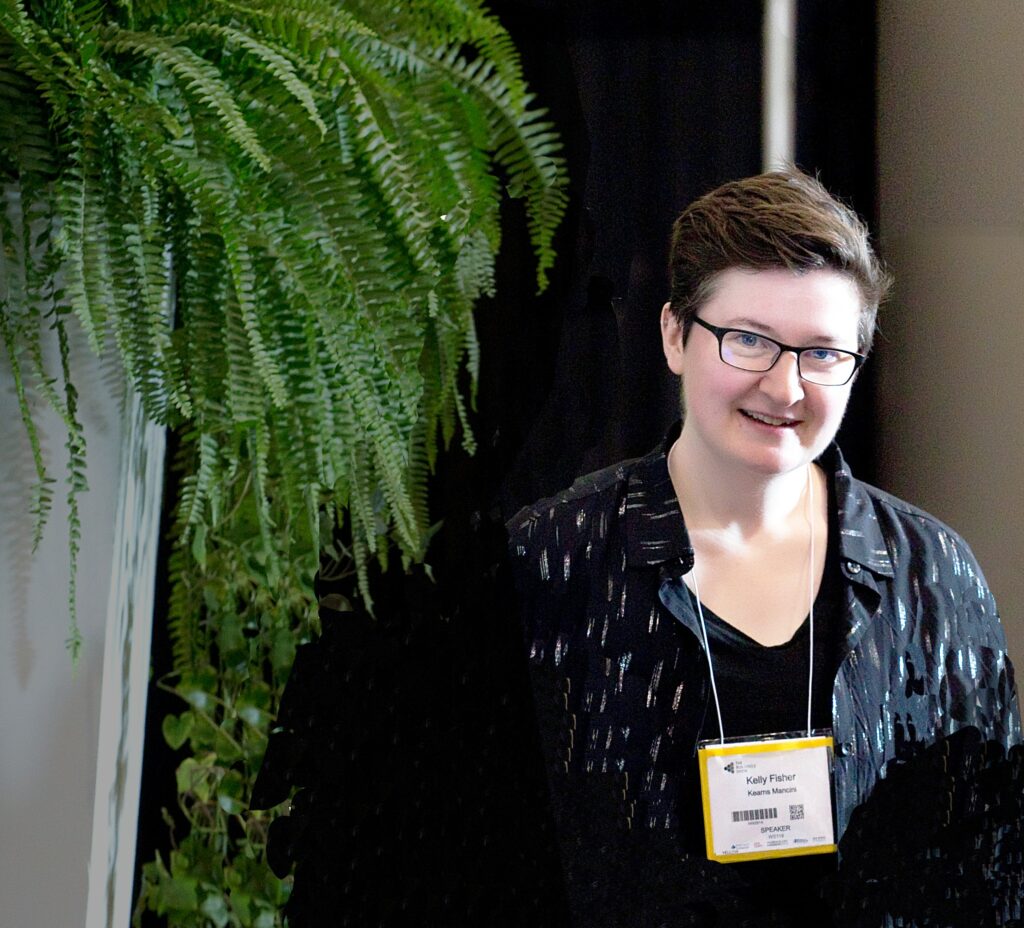 Kelly is Director of BIM and Building Performance at KMAI. She is a Certified Passive House Consultant (CPHC) and a certified PHPP Expert. Kelly brings with her a vast knowledge of both the physical reality of construction, as well as technical expertise in a wide range of programs. With a strong interest in building science and performance, Kelly is passionate about making Passive House buildings the standard that is accessible to all. Her proficiency with BIM has enabled her to create efficiencies in the BIM Passive House Workflow. A model Kelly developed, the BIM Passive House Workflow is an automated process for building PHPP Modelling, providing the architectural team and various consultants, with constant and relevant Passive House model information, detecting potential challenges and incongruencies at the onset of a project. This approach allows for value-engineering to be integrated during the design process to ensure the best value for the client. Kelly has had an active role in all of the firm's Passive House projects, and most recently has worked on the YWCA Hamilton Affordable Housing, 3100 Meadowbrook Lane Passive House Affordable Community Housing, CHH Hamilton Affordable Housing, and The Reach Guesthouse, a complex Passive House heritage restoration project.
How did you first get into the Passive House Community? Was it through a job? A specific project? What was your first impression?
My first adventure into the Passive House world was working alongside my colleague, Deborah Byrne, for the Planning Design Compliance of UTSC PH Student residence in early 2017. Our firm was contracted to prepare a test case that Passive House could be implemented for the large student residence. At that time, as BIM manager, I was brought in for Revit production on the project and was quickly tasked to extract the building geometry for the PHPP from our 3D model.
Extracting data for a large-scale building proved to be time consuming and this led to the development of a BIM workflow that we have fostered and adapted over the last few years to continue to extract more data from the BIM environment for use in our Passive House models. Working on an extra-large scale PH building, such as the UTSC project, was a terrific foundation for beginning my Passive House career as I was able to get my feet wet and get exposed to the various challenges when planning and designing a new Passive House building. Since then, I have worked primarily on KMAI's Passive House and Sustainability projects, with a focus on Passive House Affordable Housing in Southern Ontario.
I have always had a strong interest in building science and understanding the fundamentals for hygrothermal and thermal analysis, made my first impressions of a comfort standard such as Passive House more enchanting. In Canada, the current building standards mandated in the Building Code are failing us in so many ways, shifting the focus to energy reduction and improved building performance just makes sense, and my experience with Passive House has only further cemented this concept.
What has your experience working on Passive House projects and in the Passive House community been like?
The Passive House community is very welcoming to newcomers. There is a wealth of industry expertise from professionals with varying backgrounds which provides a great support network. The training options and online discussions available through Passive House Canada, Passive House Accelerator, NAPHN to name a few–-provide a great avenue to explore how others in the field are getting on with their projects. Online forums and user groups are a great way to learn more about Passive House and share your interest with other Passive House minded people. The monthly webinars from PHPP User Group in Canada and PHI Webinars are a great resource to learn more about different applications for Passive House and challenges others have faced.
You are the Director of BIM & Building Performance at Kearns Mancini Architects in Canada, can you tell us more about what you do and the role of BIM in your projects?
As Director of BIM and Building Performance at KMAI, I oversee the development and implementation of our BIM process and management of BIM Projects. This allowed for the implementation of our BIM-PHPP tool and workflow to be integrated seamlessly. The integration of Passive House into our existing BIM workflow has been advantageous to our Passive House projects to increase efficiency and accuracy for our data extraction for PH modelling. As Director of Building Performance, I act as a Passive House Consultant, working alongside the architect, for all of our Passive House projects. Ensuring that the design and development of these projects continue to achieve Passive House certification throughout all stages of design. Preparing PHPP models, completing detail review for each project, coordination with consultants/engineers, thermal modelling, and collecting site documentation are some of the project tasks I undertake at KMAI as the PH Consultant.
You were one of the first people worldwide to take the PHPP Expert course. What drew you to expand your PHPP knowledge and how did you find the course?
I wanted to take the PHPP Expert Exam to further my knowledge and understanding of the more complex PHPP inputs required for larger Passive House projects. Having worked on larger Passive House projects in Canada for a couple years prior to taking the exam, I was able to add to my PHPP toolbox with some helpful tips and tricks from the prep course and exam. The course I took from Peel Passive House was the first course offered for the exam prep, so information on past exam questions was not available, as with the CPHD/CPHC courses. Peel Passive House has a wealth of industry experience and PHPP experience over a wide portfolio of Passive House projects. The course work they developed for the PHPP Expert Exam prepared me well for the exam and allowed me to learn some new things for my day-to-day tasks as well.
How has it been applying the Passive House Standard in Canada? How do people react when you proposed the application of the standard?
The Passive House Standard is gaining traction in Canada. The concept is becoming more widely recognized, and awareness among trades and products is increasing quickly. Working on Passive House and other sustainable projects in Canada has been an exciting process for a few years. Only five years ago, we were trying to assess if a product was available in our market, we are now finding it easier to design and choose products as more Passive House friendly products have been approved for use in Canada. This is an exciting turning point for Passive House in Canada – awareness especially with public projects has taken a sharp increase in the past year, as many look to reduce their emissions and improve resiliency.
Do you have different ways of approach when proposing a Passive House project compared to a normal building project?
As with all things Passive House, the way we approach projects has changed, and we have built a well-coordinated system that works harmoniously for our Passive House projects. For a successful Passive House project, we all know the decision for Passive House needs to be determined early in design, so every part of the design can be assessed for compliance with certification criteria. When we start a Passive House project at KMAI, it's a very organized approach, where we define many of the requirements and systems early in the project and look to get a Construction Manager on board as early as possible. This approach and organization have become integral for the success of our Passive House projects, where early coordination is essential to ensure the QA/QC can be met through all stages of the project. This mentality is becoming part of our workflow for all of our projects at KMAI, as the benefits are outnumbered when compared to the 'old' way of working.
What advice do you have for architects interested in learning more about the Passive House Standard?
Education – Learn what you can about Passive House, the energy reduction, occupant comfort, thermal autonomy – once you become exposed to Passive House, hopefully you will understand how applying Passive House is the better way to build. It just makes sense!
Attend a Conference – Surrounding yourself with like-minded individuals and immersing yourself in all things Passive House. It is a passionate community and can help develop and foster your understanding of Passive House immensely.
Join a Webinar – Because of COVID, there is so much more content available online. There is so much information presented weekly/monthly, for free, in the Passive House world! Webinars from Passive House Canada, NAPHN, iPHA are all great for expanding your knowledge and understanding and offer a glimpse into how industry peers are working on their Passive House projects.
In the future, which developments do you wish to see in Passive House in Canada?
In Canada there is a movement, among a few Municipalities, to achieve near Passive House standards with a tiered system, gradually improving the performance over Code minimums, over a period of time. This gradual uptake has been generally well received in those areas, once understood by local trades and builders.
What I would like to see is more municipalities following the same path. Incentivizing improvements for new construction and renovations, with a focus on reduced emissions and improved occupant comfort.
Increased awareness of Passive House and other high-performance building standards among municipalities is also integral to the adoption of these standards, which exceed Building Code minimums. It would be ideal if municipalities and clients looking to build Passive House projects have staff on their team who are educated or trained in Passive House. This would allow us to omit the complimentary 'Intro to Passive House' session we often have with municipalities/plans examiners, as we submit these projects for building permit.
---
What did you think of the interview? Let us know! If you liked this one, then maybe you would enjoy the previous interviews of the series. You can find them here.