Giorgia Tzar and Edward Lowes attended COP26, representing the Passive House Institute and International Passive House Association. Edward has been working as a research associate at the Passive House Institute since 2016 as a member of the component certification department, with a focus on building envelope components (construction systems, windows and façades). Giorgia manages the International Passive House Association and is an active member of the Global Alliance for Buildings and Construction and Group of Experts on Energy Efficiency for the UNECE. In 2021, she has been responsible for the global 'Efficiency: The First Renewable Energy' campaign. These are Giorgia's reflections on the event:

The 2021 United Nations Climate Change Conference, COP26, has come to an end. Regardless of overall outcomes of the conference, 2021 was a big year for Passive House. Not only was Cities, Regions and Built Environment Day reintroduced to the COP programme for the first time in years, showing growing recognition for the importance of the topic, but Edward and I also had the opportunity to network with relevant people, and to promote existing solutions for the building sector in the various side events taking place.
I had the honour of managing our Passive House presence at COP, organising several dedicated Passive House sessions in the national pavilions, a half-day Passive House tour and taking the opportunity to promote the global standard and its growing community wherever possible over the two-week event.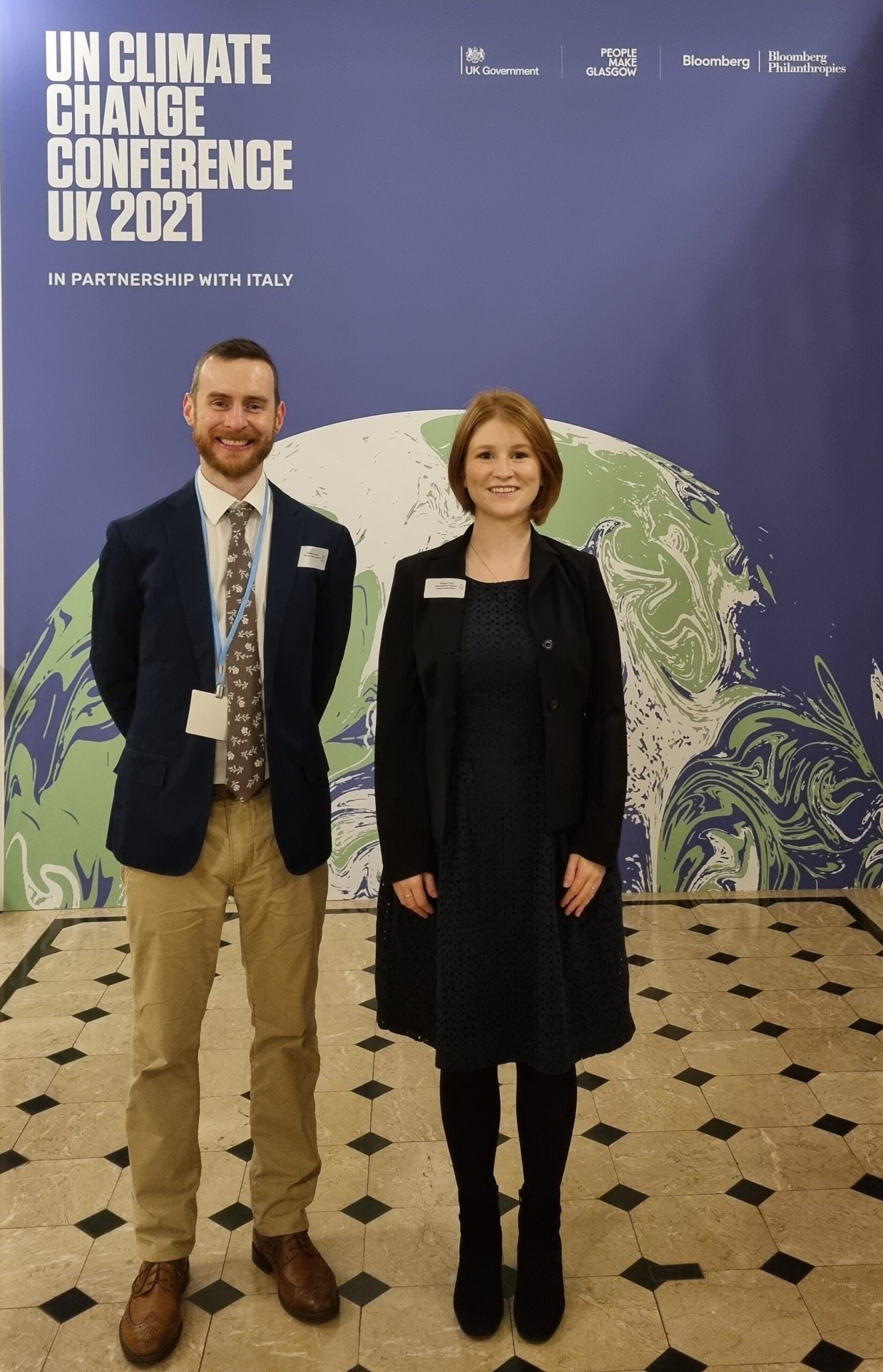 This year, COP went hybrid, with events taking place online and in-person, in Glasgow, UK. I decided to take advantage of this to organise online sessions over the first week. I hoped this would make our events accessible to everyone, with or without a blue zone pass! (Blue zone is only open to accredited government officials plus other accredited individuals and organisations).
On November 3, the Passive House Institute's partners: Construction Scotland Innovation Centre; Passive House Maine; EnEffect; Passive House Canada; the Passivhaus Trust and South West College, Ireland were officially recognised as UN Centres of Excellence for High Performance Buildings! The Passive House Institute and many of our iPHA affiliates are also in the process of joining the initiative. According to Scott Foster, Director of Sustainable Housing at the UNECE, "The International Centres of Excellence engage local professional, regulatory, and policy actors to raise the performance of the buildings supply chain globally. They support the building sector in their local areas, providing education, training, and other critical resources so the local industries can move forward in line with the UN's building guidelines. They also collaborate with one another to share resources and knowledge internationally." This is a great initiative and it's exciting to see so many Passive House actors taking part!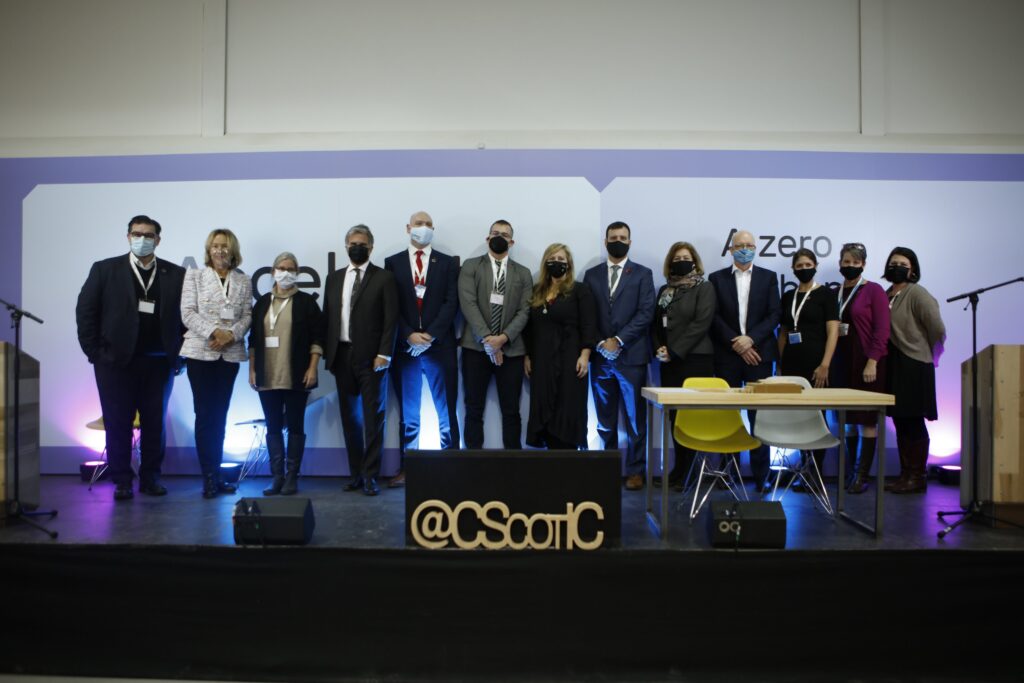 On November 4, Mayor Würzner, of Heidelberg, Germany joined other city leaders in the UK Digital Pavilion to discuss "Sustainable city regions: how can we enable zero-carbon living at scale?" delving into the success of the Heidelberger Bahnstadt, one of the largest Passive House districts in the world. PHI's Jessica Grove-Smith also made use of the digital format, taking part in a session on "Climate-neutral housing – Decarbonizing the housing stock in an inclusive and affordable way" with Housing Europe, UNECE and UN-Habitat. She promoted Passive House as an existing solution.
On November 5, our 2021 iPHA 'Efficiency: The First Renewable Energy' campaign enjoyed a dedicated event in the digital EU Pavilion. I was joined by iPHA Affiliates Passivhaus Austria; Passive House California; the Passive House Network (US); Passzívház Magyarország (Hungary); the Passivhaus Trust (UK); Passive House Association Ireland; Passive House Institute New Zealand and the Australian Passive House Association, to discuss the progress and achievements of the #EfficiencyFirst campaign and Passive House in their respective regions. The event went off without a hitch and included in-depth presentations from affiliates covering a range of Passive House topics such as social housing, air quality, hot climates and more. I always enjoy these opportunities to work with our affiliate organisations and highlight just how international Passive House truly is, thank you for your input and perspectives!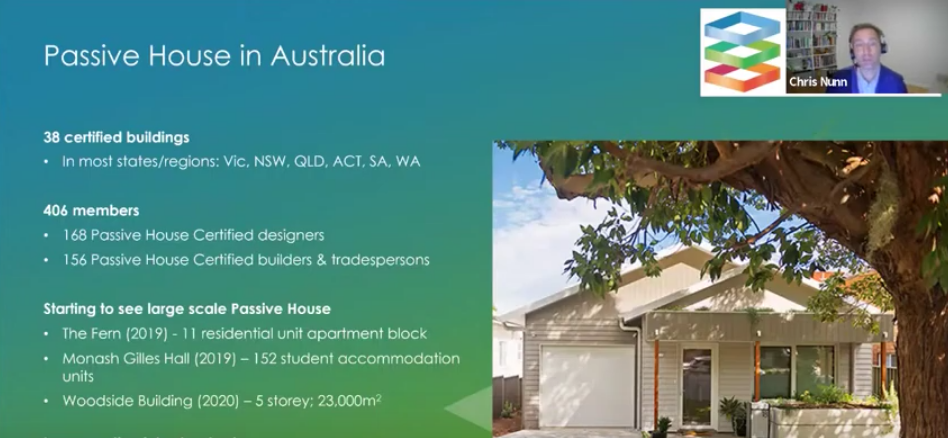 On November 7, PHI's Edward Lowes and I travelled to Glasgow to take part in the second week of COP26 in person. On November 8, we ran a fully-booked tour of Passive House buildings in and around Glasgow, where we visited new Passive House social housing units at Newfield Square and three retrofitted high-rise towers in Cedar Court. It was fantastic to offer participants the chance to experience Passive House for themselves, viewing new build and retrofit projects to see the diverse methods for implementation.
We were really lucky that the weather held out until we arrived at Construction Scotland Innovation Centre (CSIC) for a Passive House workshop and enjoyed some hot drinks and biscuits while we listened to a presentation from Chris Morgan of John Gilbert Architects on an EnerPHit refurbishment of traditional Victorian tenement flats on Niddrie Road. Before visiting the Passive House rigs and learning more about CSIC's Passivhaus in Practice programme, which aims to promote the wider adoption of environmentally friendly construction to help reduce the sector's carbon footprint, tour participants received an introductory presentation on Passive House by the Passivhaus Trust's Sarah Lewis. She highlighted the problems with the current UK approach to building stock, as well as the opportunities for improvement. Overall, the tour was very well received and we were glad to see so many enthusiastic participants from all over the world join us to learn more about Passive House and its implementation in and around Glasgow.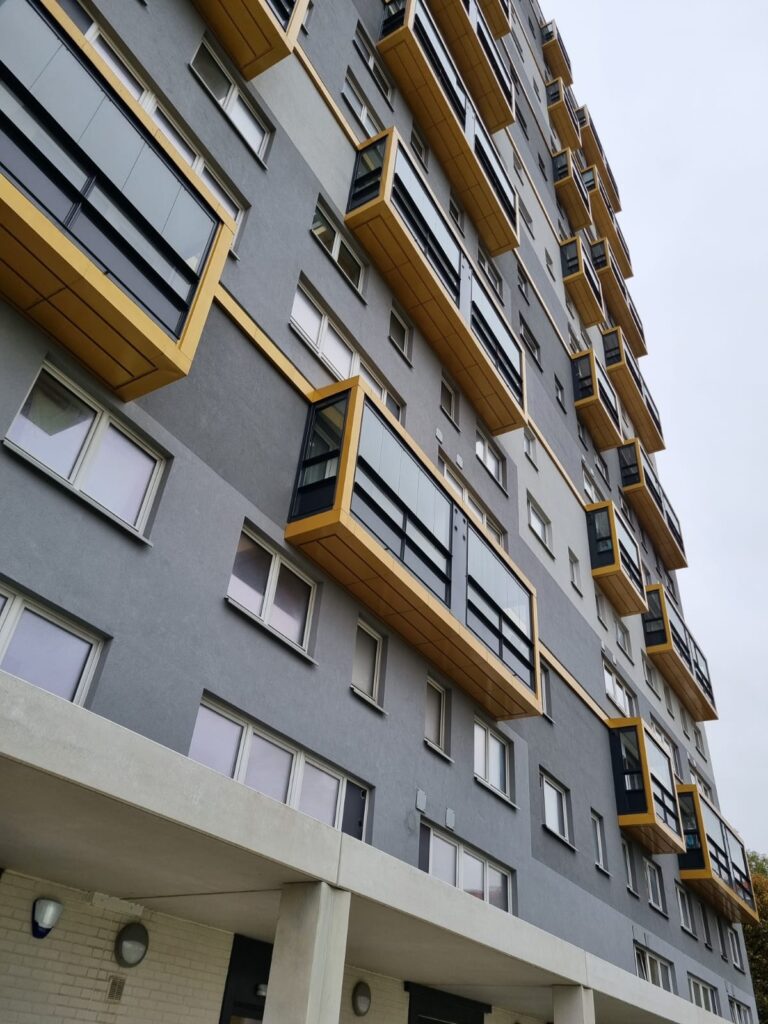 The next few days were busy with networking events, helping out at the Global Alliance for Buildings and Construction's Buildings Pavilion and the Construction 21 Green Solutions Awards. This year, we had multiple Passive House projects win national awards and were excited to see so many also shortlisted for the international awards. Among the winning projects was the "4 passive social housing units in straw wood" project, which received the low carbon category award. A big congratulations to all participating projects, I can't wait to see our continued success at future Green Solutions Awards!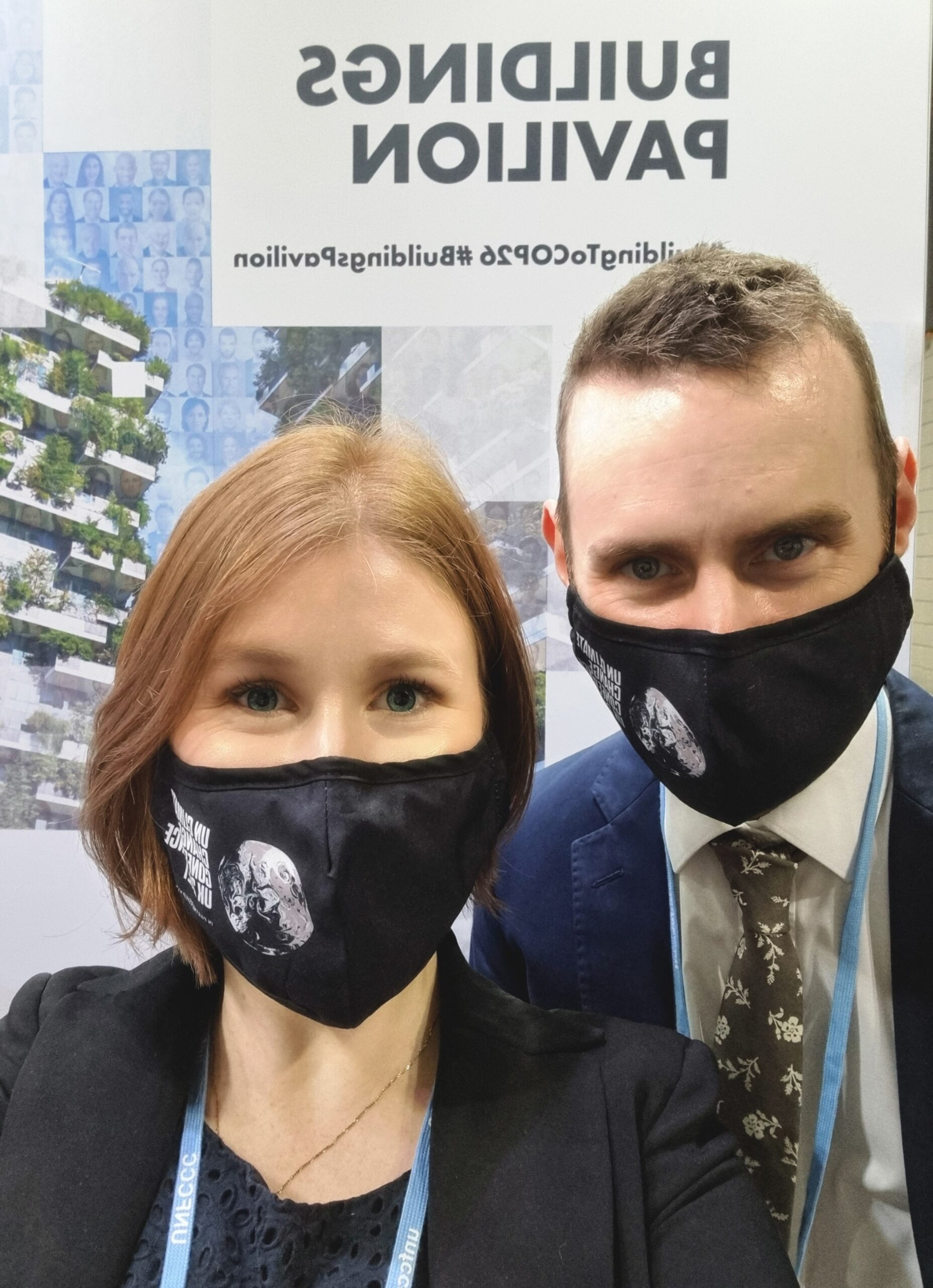 November 11 was Cities, Regions and Built Environment Day and our biggest day at COP26. We had not one, but four events to take part in! To start off the busy day, Edward headed to the Green Zone (the area and COP26 platform for the general public, youth groups, civil society, academia, artists, business and others) to join our the Passive House Association of Ireland's Chair, Barry McCarron and his colleagues from South West College, as well as the UNECE's Scott Foster and Passive House Academy's Tomas O'Leary to discuss "How buildings will play a role in fighting climate change".
While Edward was in the Green Zone, I was invited to join a panel in the Blue Zone's French Pavilion. The French Ministry for the Energy Transition held an event on "Refroidissement: des solutions concrètes pour relever l'ambition et l'action – le cas des villes" and while my French may be lacking, on-hand translators helped ensure we could discuss concrete options cities have to raise ambition and action. My co-panellists made a strong case for greening urban environments, a great option for providing shading for highly energy-efficient Passive House buildings! I was grateful for the opportunity to offer my honest opinion that the tools and know-how we need to tackle the problems of energy efficiency in buildings are available and that we do not need to reinvent the wheel but rather to install the existing wheel and get moving!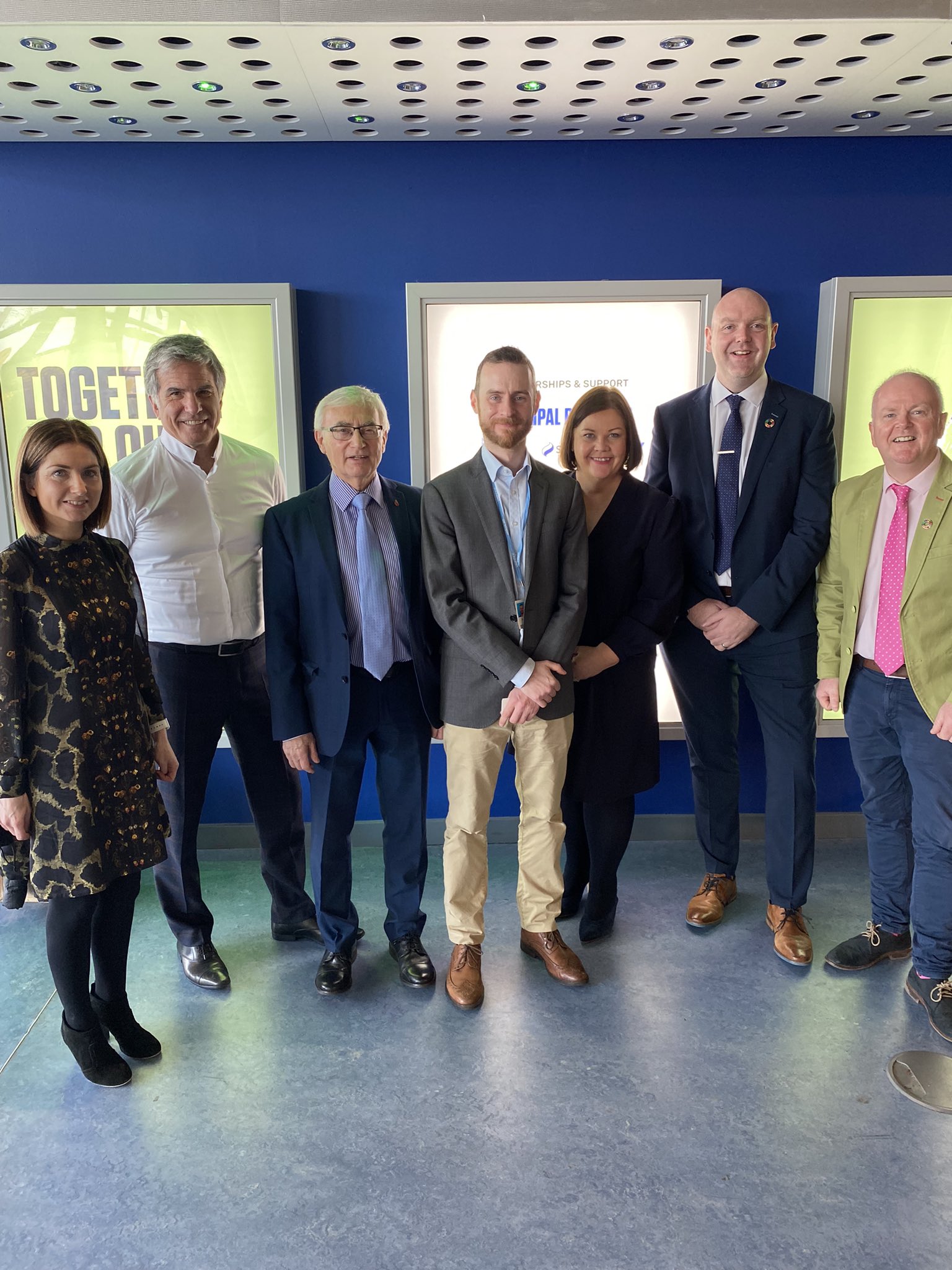 After these two sessions we had an afternoon discussing the Ice Box Challenge. I was joined by the rest of the project organising committee in the EU Pavilion for our session "Ice Box Challenge Glasgow: The results of a public experiment" to discuss the Passive House basics, the #EfficiencyFirst campaign and how the Glasgow Ice Box Challenge came to be.
Michelle Mundie, Head of Housing for the Glasgow City Council then spoke about the city's approach to Passive House implementation, while Dr Julio Bros-Williamson of Edinburgh University highlighted the project's youth engagement angle. CSIC's Lisa Deane spoke about capacity building and providing opportunities for better buildings before the Passivhaus Trust's Sarah Lewis rounded out the session by discussing what the results of the public installation mean for current building regulations and standards in the UK, as well as discussing Passive House as a pathway to improving our existing building stock and future new builds. It was a great session and I was happy to announce that the next Ice Box Challenge is just around the corner: Sydney, Australia will be hosting their own Challenge in February 2022!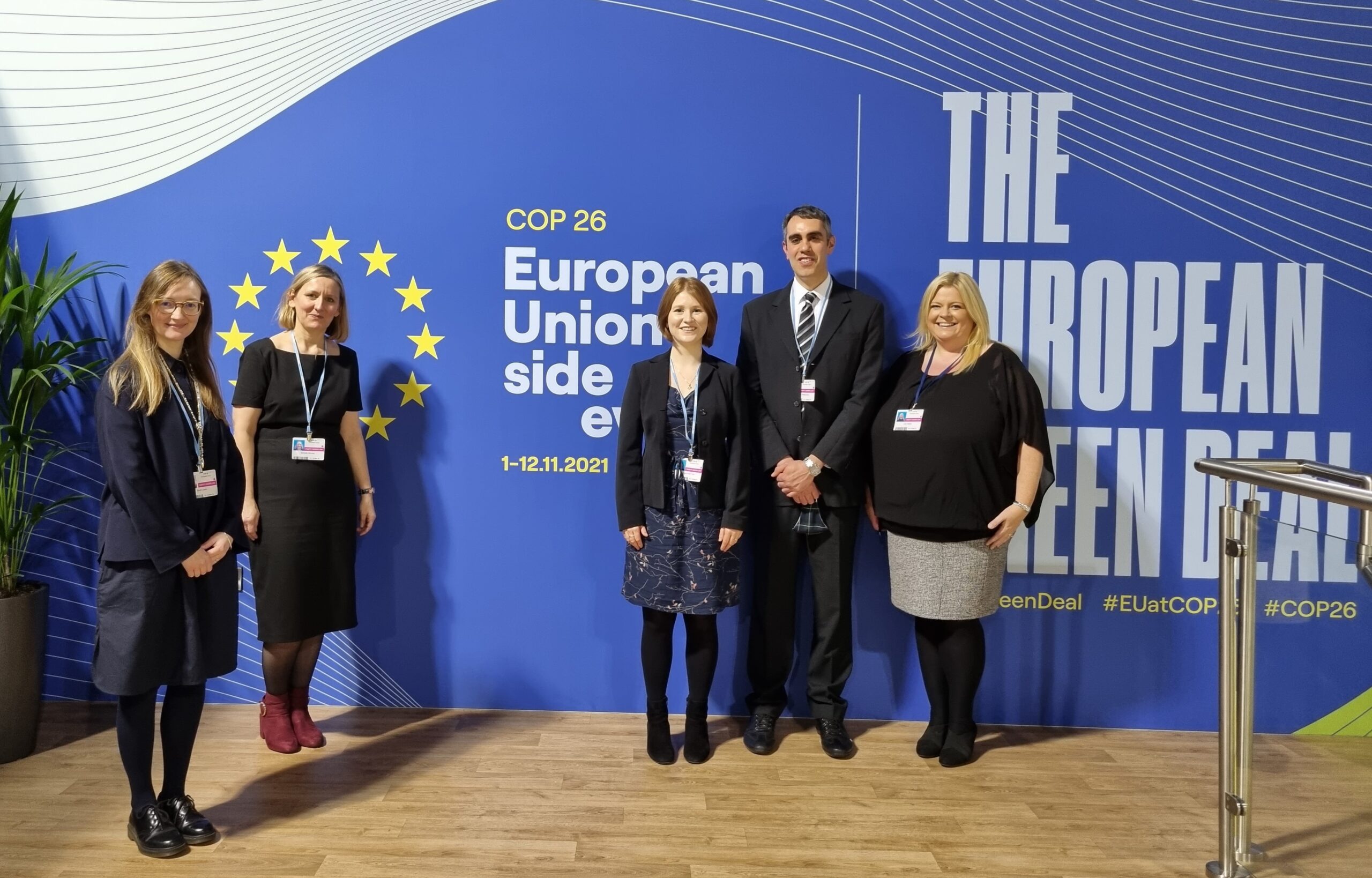 That wasn't the end of Ice Box Challenge talk though, we had a second session in the Buildings Pavilion, "Passive House Ice Box Challenge – Crossing Borders", together with Instituto Latinoamericano Passivhaus (ILAPH) to find out the results of the Ice Box Challenge Santiago, which ran from November 2 to 11, in line with the COP26 schedule. I was joined by Juan Manuel Vazquez and Alejandro Moreno in person and online to discuss Passive House basics in hot and temperate climates and compare the Ice Box Challenges in Scotland and Chile.
The session ended with a live-stream of the results from Santiago, where the local construction standard kept only 230kg of the original 1000kg intact, while the Passive House box maintained 645kg. Similar results were seen in Glasgow this August, where the Scottish regulation box was completely empty a whole 5 days before the closing ceremony, while the Passive House box maintained 121kg of the original 917kg, despite a surprise heatwave pushing temperatures well above projected conditions. It was fantastic to have the opportunity to present on this major iPHA project in not one, but two pavilions on Built Environment Day, and I look forward to many Ice Box Challenges to come!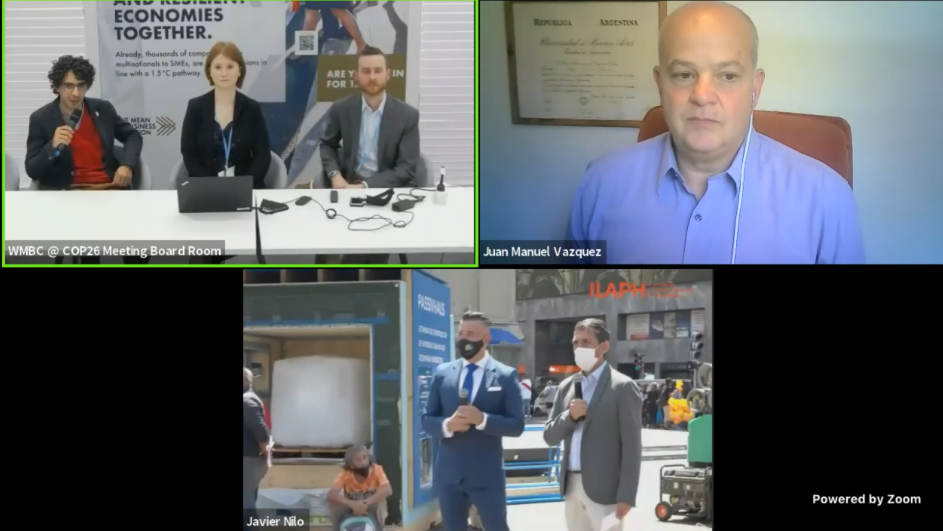 COP26 was the first major, in-person event that iPHA has had the opportunity to advocate for Passive House at since the pandemic began. It was incredibly gratifying to have so many opportunities and outlets to communicate the importance of an efficiency first approach to COP26 delegates. I'd like to say a big thank you to everyone who supported our "Passive House at COP26" efforts, helping us organise Blue Zone accreditation, participating in our events and helping to spread the word! COP26 was a chance to open delegates' eyes to transparent, proven –and most importantly – existing solutions for the built environment, which can and should be implemented today. I believe we made the most of this opportunity and look forward to better building outcomes to follow.